After a long hard day, the dining room is where your family gathers. It's not a place for eating only but also to spend time and make memories. 
Imagine eating in a dining room with unorganized furniture and a boring atmosphere. Such a big disappointment! 
The ideal dining space has a homely and comfortable ambiance with limited-but-useful interiors aligned neatly. Nothing is clumsy or cluttered.
The furniture is minimal, yet on-point and the lights are soothing. There is enough room for the members to sit comfortably. 
If you are still an amateur in organizing your dining interiors, then check out our dining room interior list:  
#1 Wall Arts
Apart from being an eating space, it's important for a dining room to look good.
If you want a minimalistic yet aesthetic outlook, select wall art for the dining room. 
Wall arts act as a finishing element that harmonizes with furniture, lighting, colors, and decoratives. It also adds a hint of vibrant shade to the room. 
If you want a contemporary look, large artworks are a good choice. Likewise, for traditional setups, it's worth trying natural landscapes like the below picture. Make sure to choose something social instead of extraordinary. 
You can try multiple layouts instead of one single artwork. As dining spaces are for family, you can also create a family collage and hang it up to the wall. Frame it up with black/brown frames, and you have perfect dining room walls!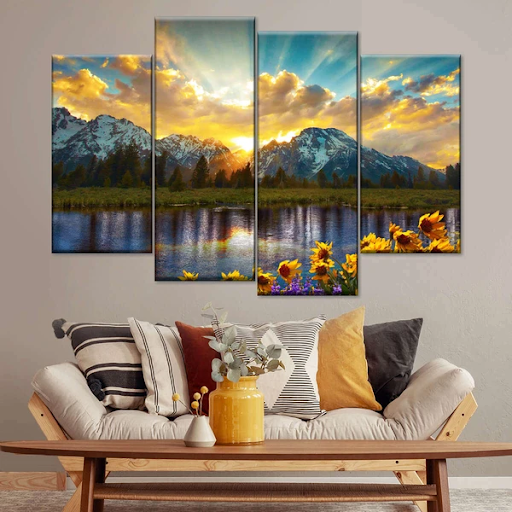 Source: Elephantstock
#2 Dining Chairs
A dining room without a durable dining chair is incomplete. Make sure that the seatings are comfortable with enough space to accommodate the legs.
You can choose the dining chair type as per your requirements. Both armed and armless chairs are great for the dining head. You can also choose Parson chairs with aligned backs. 
For a rustic and conventional look, wooden chairs with oval back shapes are pretty decent. You can also try other varieties like slat back chairs! 
Secure the chairs with linens and fabrics to add more versatility. If you have any aesthetic-vintage furniture, keep them as it is. You can match the chairs with tables or fuse them as per wall contrast. 
#3 Dining Table
After dining chairs, let's move on to the next important thing i.e., dining table. Start by deciding its size first. 
Small tables are ideal for a nuclear family, while large ones are good for a joint family. In short, there should be adequate space for your members to fit in.
Decide on a suitable material and design for your table. Rectangular shapes are appropriate for joint families with eight to six members. Likewise, square or round dining tables are perfect for hosting limited people. 
The table width can be decided as per the distance you want between the seatings. For dining table-top, you can choose options like a wooden top, glass top, stone top, etc.
Each of them has its own function of enhancing the room aura. While wooden ones look rustic, glass tops add a glossy feel. Make sure that the tables are detailed with clean lines and adds a modern look. 
Source: Elephantstock
#4 Add Lights
Imagine your family gorging on a hearty meal with a beautiful chandelier hanging on top. How cool is that? Lighting schemes can make or break the dining ambiance. 
You can go for something as controversial as a chandelier or as classy as pendants. If one doesn't seem enough, create a set of pendant lights. It acts as a direct spotlight on the seating area. 
Alternatively, you can place small lamps above or below the wall arts. Some other light options include scones (for lighting layers) and table lamps (for the sides).
#5 Add Flowers and Plants
To freshen up the environment, add some indoor plants inside your dining rooms. You can also add some fresh flowers as the centerpiece. 
You can keep them in a small space or arrange them vertically throughout the dining tables. Select the most fragrant and vibrant flowers to add as the centerpieces. 
If you want to blend in some greens, secure the sides of the room with snake plant, golden pothos, or peace lily. As plants are useful to excel darker spaces, they can add natural lighting to the room. 
Try to follow the below-mentioned rules when arranging the plants
Avoid grouping plants at a uniform height

Group them as per commonality

The number of plants should be odd. (three is ideal)
To Conclude
So that was our take on a checklist for room interiors. If you are decorating your dining room from scratch, identify the function of your dining rooms first. 
Ask yourself whether it's going to be for casual family dinners or dinner parties too? Based on these factors, decide on an appropriate layout and size of the interiors.